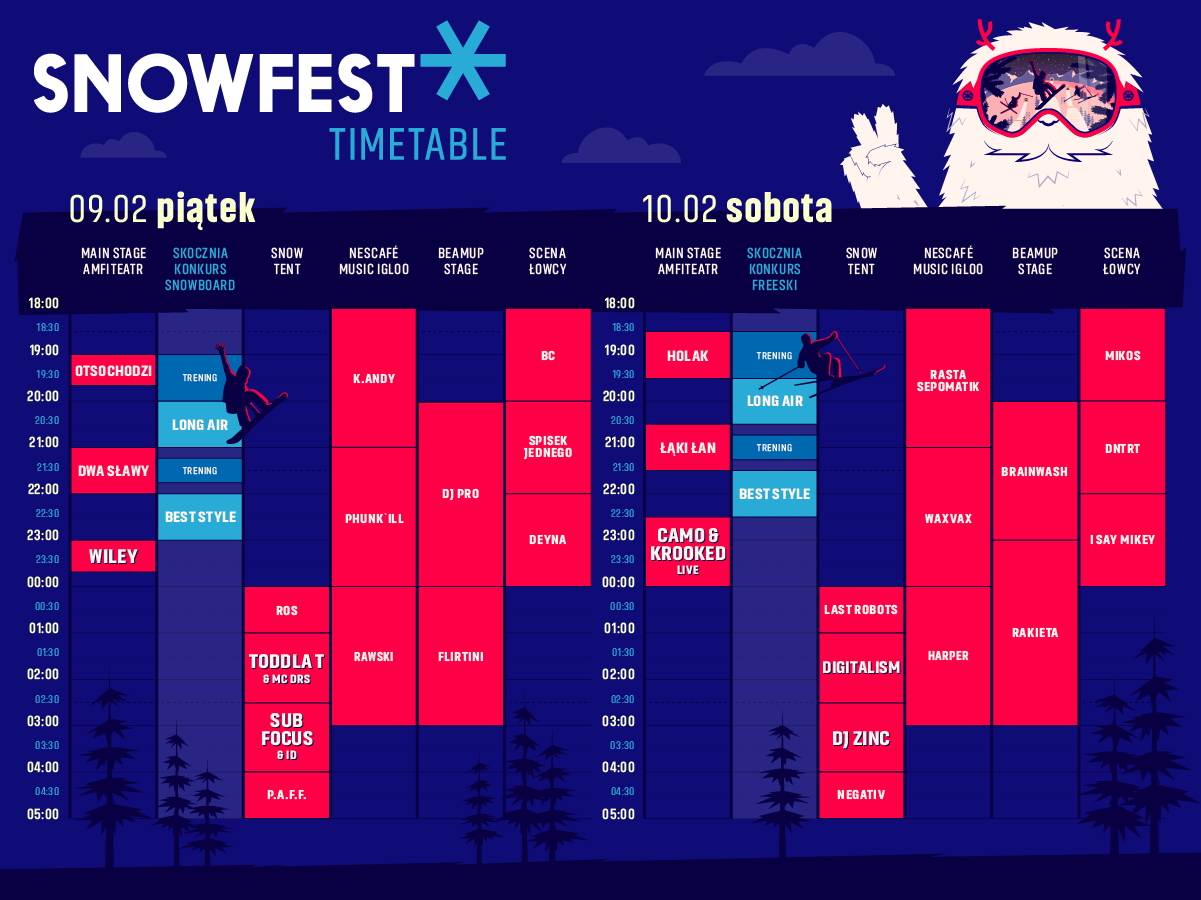 Jak na każdym festiwalu, tak i na SnowFest Festival, dobrze wiedzieć co i jak. Dobry, skoordynowany plan to podstawa ku temu, aby "zaliczyć" jak najwięcej występów, zobaczyć jak radzą sobie riderzy na zawodach, spotkać się ze znajomymi, wyskoczyć coś zjeść a potem wrócić i szaleć do rana. Timetable 2018 ogłaszamy ogłoszonym!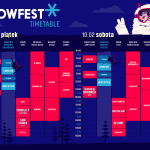 PIĄTEK 9.02

 występy Otsochodzi, Dwa Sławy oraz Grubson na scenie głównej

 ROS addiction, TODDLA T & MC DRS, Sub Focus oraz P.A.F.F. na scenie SnowTent

 K.Andy, Phunk'ill oraz Rawski wypełnią energią scenę NESCAFÉ Music Igloo

 Dj PRO oraz FLIRTINI zagrają na BeamUp Stage

 BC, Spisek Jednego oraz Deyna wystąpią na Scenie ŁOWCY

 Kwalifikacje i zawody LONG AIR oraz BEST STYLE w dziedzinie SNOWBOARD zobaczycie na Skoczni Skalite
SOBOTA 10.02

 HOLAK, Łąki Łan oraz Camo & Krooked zawładną sceną główną

 Last Robots, Digitalism, DJ Zinc oraz Negativ rozgrzewać będą SnowTent

 Rasta Sepomatik, WAXVAX oraz Harper przejmują scenę NESCAFÉ Music Igloo

 Na BeamUp Stage, sobota należy do BrainWash The Dj oraz kolektywu Rakieta

 Scenę ŁOWCY rozbujają MIKOS, DNT RT oraz I Say Mikey

 Kwalifikacje i zawody, tym razem w dziedzinie FREESKI zobaczymy, a jakże, na Skoczni Skalite.
W programie także, od 12:00 każdego dnia

 Drugi Zlot Food Trucków w Szczyrku